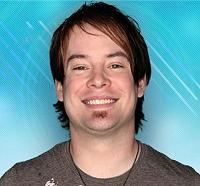 We get requests for all kinds of songs. Some great, some OK, some bad, and some strange. When this guy called asking for David Cook, the name seemed vaguely familiar, and I wish it had remained that way:
2 Responses to "David Cook Request: Denied"
Penny Keating Says:
August 21st, 2008 at 6:01 pm

I think this guy should go and get his ears checked if he thinks David Cook sounds like shit. His words, not mine. He was ignorant, to say the least.

Josh says: Yeah, David Cook is soo sexy and a fantastic singer. He's MY Idol!

Liz Says:
August 21st, 2008 at 7:58 pm

Josh is known for his band/singer bashing.. it's just the way he is.. Regardless of whether or not David Cook is good, dude should have known that x92.9 would NOT play David Cook. It's just not the type of music they play… and they should have especially never asked Josh of all people to be the one to play it.. He listens to Dinosaur Jr.
Leave a Reply